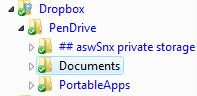 Have you gone to a high profile presentation only to discover that your latest version is in your home computer or office desktop?Have you ever wished that you didn't have to carry your laptop anywhere?
Have you ever wanted to travel totally light, say carrying a pendrive and you lost the device? Have you felt the need for your presentation software in a conference or in a client location?
If your answer is yes to any one of the questions above, you will be able to relate to my experiences.