2020-08-12
"These are the voyages of the starship Enterprise". These words shaped much of my growing up, when I watched Captain James Kirk take on adversary after adversary and win over challenging situations. As a tribute to the magnificent series which has had so many spin-offs and movies, I wrote a fan fiction screenplay of what might be one episode of the Star Trek show. I'll publish the entire screenplay chapter by chapter. Enjoy!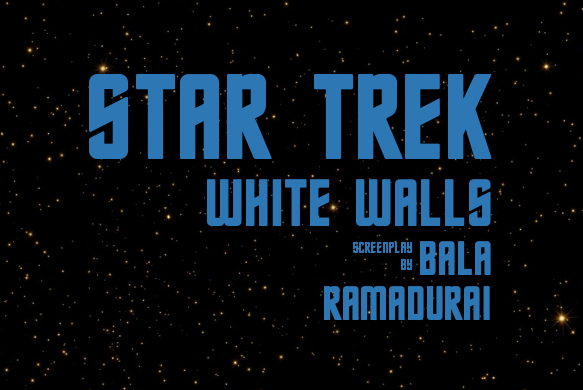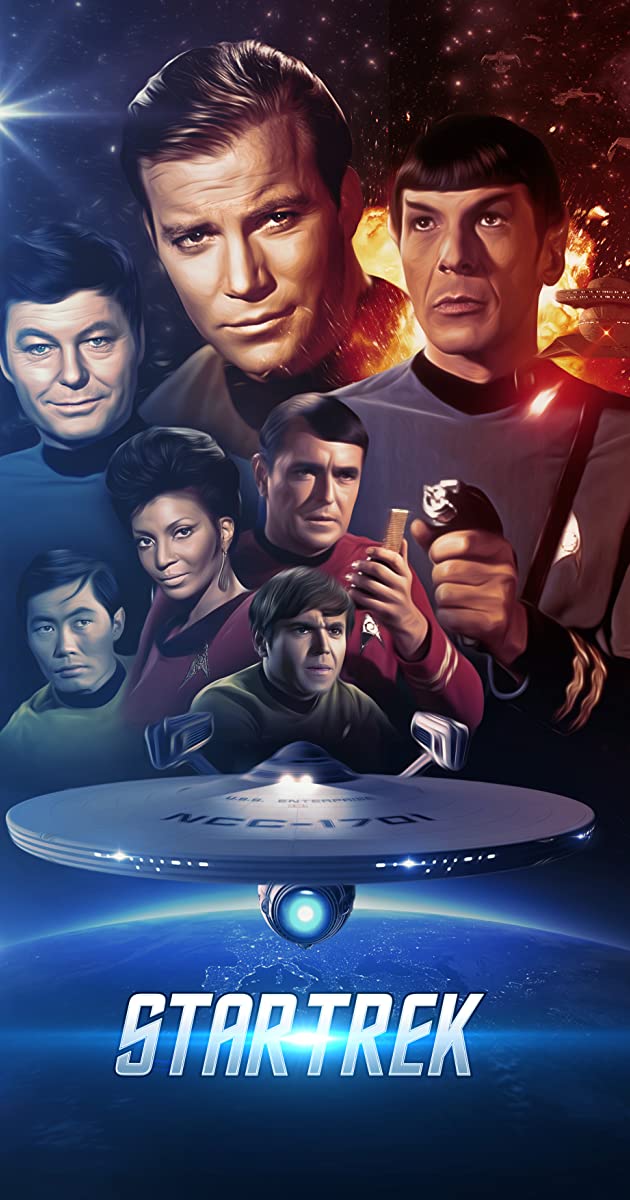 Disclaimer - Star Trek and all related marks, logos and characters are solely owned by CBS Studios Inc. This fan fiction screenplay is not endorsed by, sponsored by, nor affiliated with CBS, Paramount Pictures, or any other Star Trek franchise, and is a non-commercial fan-made screenplay intended for recreational use. Feel free to use this screenplay as you see fit. No alleged independent rights will be asserted against CBS or Paramount Pictures. (This disclaimer is a modified clause from https://www.startrekcontinues.com)
The entire series is here - https://balaramadurai.net/series/white-walls
Here's the screenplay:
Title: White Walls
version: 2.0
credit: Screenplay by
author: Bala Ramadurai
format: screenplay
source: Story by Bala Ramadurai
Edited by: Anita Nagarajan
contact: bala@balaramadurai.net



# Chapter 4

We see the USS Enterprise orbiting a planet.

KIRK (V.O)
Captain's log: Stardate 5971.8. Seeing Uhura in the white robe and the enslaving device, the Capernians called the Tekron, made me wonder how many more crewmen from the Enterprise had Slotta recruited. I had the Tekron pinned on my shoulder as well. Strangely, now I felt that the crew was perfectly safe.

INT. USS ENTERPRISE SICK BAY

Dr. McCoy leans over his communication console.

MCCOY
McCoy to Biopsy lab. Come in, Biopsy lab. Morrison, come in, please. McCoy to Captain, come in, please. McCoy to Kirk, come in, please.

MCCOY
McCoy to Scotty, come in, please. McCoy to Spock. McCoy to bridge. McCoy to anyone. Is anyone onboard?

We see a montage of the bridge, the hallway, recreation center and the engine room. No soul is seen.

MCCOY
Joanna was right. The entire crew is on the planet now. How can I get the crew back? I am a doctor, not a recruiter.

KIRK
Kirk to McCoy. Can you read me, Bones?

MCCOY
What a relief! Yes, Jim. It's so good to hear a human voice. Where is everybody?

KIRK
They are all on Caperna, Doc. You should come down too. I'll explain everything when you beam down here.

MCCOY
Where is Spock?

KIRK
He is here too. Bones, don't forget to bring your daughter to the planet. All your dreams come true here.

JOANNA
Noooooo… Don't ... let... them...

Her Tekron is still red.

MCCOY
My patient needs my help. I will contact you soon, Jim.

MCCOY
Try to relax, Joanna. I'll give her another shot of the sedative.

JOANNA
No, Dad. Don't... go... to... the planet... danger...

MCCOY
What danger awaits the Captain and the crew?

JOANNA
Slotta... Alien... no Tekron... captain and crew... aliens... not adapted to high strain of dreams and intense problems... die... die... Radiant crew all dead... Aaaaaaa...

Joanna passes out again with the K3 pain indicator at maximum.

MCCOY
I have no way of continuing on my own here. I am all alone, my daughter is dying. The only help is down there at the planet.

INT. USS ENTERPRISE BRIDGE
The lift doors of the bridge open. McCoy steps out to enter the empty bridge of the enterprise. He starts looking at the flashing lights, the automatic beacons, the switches, the panels and the empty seats. His gaze falls on the captain's con.

MCCOY
Well, what do you know? Ironic as it sounds, I am the Captain of the Enterprise. Wonder, how many surgeons have become captains! In 2260, Doctor... Oh, that Spock has been corrupting me.

MCCOY
(looking sternly at the Captain's chair)
No, I am a doctor, not a soldier.

Dr. McCoy reached over to the Captain's chair and switched on the log button.

MCCOY
Medical log: Dr. Leonard McCoy recording. With this log entry, I declare Captain Kirk and the entire crew unfit to run the ship and as the only senior officer remaining onboard the enterprise, I, Dr. Lenoard H. McCoy, am assuming command of the Enterprise.

MCCOY
Captain McCoy to James Kirk. Come in, James Kirk.

KIRK
(smirking)
Captain who?

MCCOY
Captain McCoy, I have assumed command, since there are no souls onboard the Enterprise. You, James T. Kirk are unfit for command.

KIRK
Now, now. That is very cute that you call yourself a Captain. But I am still the Captain of the Enterprise.

MCCOY
No, I have declared in my medical report about the Captain and the crew that all of you have been in a state of delirium since coming into Caperna IV. I have also indicated that you can never break away from the influence of the Tekron device and hence you are unfit for command.

KIRK
Doc, why don't you come down here? I'll explain everything to you. Dreams, visions…

MCCOY
As the Chief Medical Officer and current Captain of the Enterprise, I order you to appear here for a medical examination.

KIRK
Very well… CAPTAIN. I'll fix a few things when I come onboard, one of them better not be your broken jaw. You do know how to operate the transporter, don't you?

MCCOY
Well, I don't.

KIRK
I'll take care of that from down here.

Kirk transports to the Enterprise using the energy-beam transporter. When Kirk materializes, he finds Dr. McCoy, with an injection device in his hand, ready to sedate the Captain. However, Kirk halts McCoy's move with a swift right chop on McCoy's forearm. The device drops from McCoy's hand. McCoy flings himself on Kirk, but Kirk ducks clear of McCoy. Kirk grabs hold of the injection device and holds it close to McCoy's neck.

KIRK
Doc, don't make me hurt you. Join me in my dreams to be the best crew in the universe.

MCCOY
Jim, we are already the best crew in the universe. Don't you understand that you've been tricked into believing that you are inadequate and unhappy with what you are.

KIRK
Doc, you don't have the faintest idea of what brilliant visions I have for my crew and the Capernians.

MCCOY
(dusting himself and getting up)
Let me remind you of what's happening here. You are in love with that woman. She is manipulating from down there. Admit it, all this vision stuff is a cover up.

KIRK
(shoving McCoy)
Doc, don't push our friendship beyond this. Don't drag Slotta into this. I am taking you with me, with or without your permission.

Kirk short arm jabs Dr. McCoy on his face and knocks him unconscious. He starts setting up the transporter for the doctor to be moved to the planet. A high pitch sound is heard and Kirk feels a sharp stunning force. He falls down with a loud thud. Joanna is standing there with a phasor.