By deotimaco | 2018-02-09
These students from the HR division (Team Bullseye) submitted the following story (based on a true story) as part of their course on design thinking. They used the Karmic Design Thinking methodology. I found it very entertaining and educating. Their selfie of the entire team which wrote this piece is on the way. Pigeons take time to deliver messages, you know ;) I had fun reading this. Hope you do too!
Once upon a time there lived a rabbit named Bugs Bunny. He was employed by Mr. Kangaroo who ran a carrot cultivation farm. Mr. Bugs Bunny was very hardworking and dedicated employee and always loved to give his best. One fine day when he was picking up the carrots, his assistant, Ms. Chipmunk came running to him informing him that his mother broke her back after a monkey on the tree accidently dropped a coconut on her. She was immediately hospitalized and Bugs Bunny rushed there.
There he met Mr. Fox who was the doctor attending to his mother. He reassured him that she will be alright but requires immediate surgery to avoid further complications in the future. He suddenly recollected that there existed an HR service desk in his company, so he immediately called them up to enquire about the policies for medical reimbursement for family and the maximum amount he was eligible for. The call was attended by Ms. Sloth. She picked up the call and asked him to wait for some time while she clarifies his doubt with her superior. Mr. BB stayed on the line for almost 15 minutes, when she finally returned and said that she doesn't not have the required information and will get back to him in a couple of days. He was utterly frustrated with the lack of proactivity on her side but still had hope that he would get some money towards reimbursement. As the situation called for immediate measures, he used up all his life savings to pay for the operation. But he was relieved that his mother was alright. He stayed with his mother, taking good care of her. He had delegated his duties at the farm to his colleague Porcupine for the time being. He returned to work in 2 weeks after hiring Swan to take care of her whenever he goes for work. He efficiently was trying to catch up on the work and on the first day back on the farm, he went to meet Ms. Sloth to enquire about the reimbursement. She still, couldn't recollect what he was talking about, he apprised her about the details once again. Then she said "Oh ya I remember!", but I'm really sorry to say this to you, but the deadline for applying for reimbursement passed and unfortunately it was yesterday.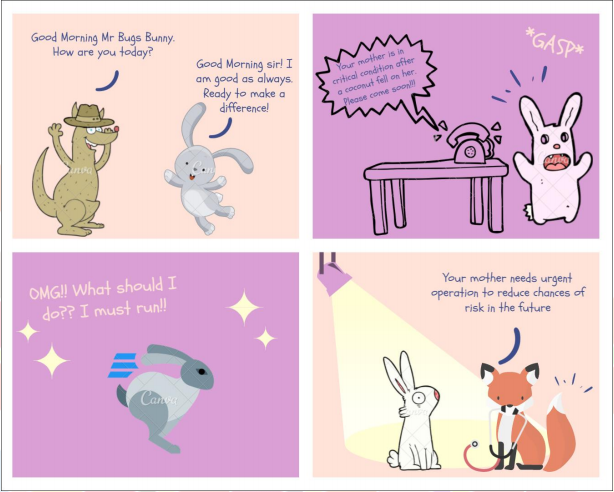 Bugs Bunny lost all his calm and was enraged at the sloth for her lack of interest and ignorance. He came back home dejected that he lost his eligible money. He started going to work but not like how he was before. He was always demotivated and no more had the interest to go to work. He rarely met the target number of carrots to be picked and stopped communicating constantly with this Mr. Kangaroo as well as peers.
Meanwhile, Mr. Kangaroo was noticing all this change in the way of working and started worrying that he might lose a very competent employee. He reached out to Bugs Bunny's assistant Ms. Squirrel to know exactly, what went wrong. She filled him in with all the stories and events that Mr. BB had to go through. Kangaroo could empathize instantly with Mr. BB and decided to tackle the problem by its root. The first thing he did was to call up a meeting with BB. He told him that he will be given the entire money that he was eligible for and in exchange is asked him for his loyalty to the company restored.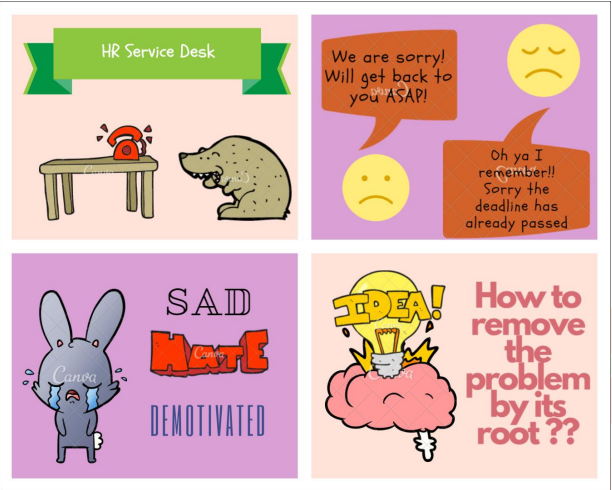 He called up a meeting with his top officials to set up a team to remove the problem by its root. He set up a team consisting of:
Ms. Elephant senior most Manager in HR Services
Mr. Mice - Head of HR Services
Ms. Sloth - the HR Service desk respondent
Mr. Beaver from IT department
They understood that the problem needs to be solved since:
It serves as a common platform for all the employees having issues regarding policies.
It is also a grievance redressal platform that is backed up by a strong follow up mechanism -
One can easily access all the information's related to policies
It helps in resolving issues related to reimbursement, perks, compensations HRA's leave policies etc.
It attends to the increase in the number of queries and concern relate to certain policies helps to understand the maturity/success of that policy. Policies could be reframed if required
To address the queries and concerns related to policies helps in knowing the policies which have greater relevance to employees
To get the interest of top management for major faults in rules.
They discussed and came to a consensus on what actually the problem was. It was nothing but the inefficiency of the HR service desk to resolve employee queries in a speedy manner. They brainstormed and came up with the following features to eliminate the problem. They classified their aims into 2 parts:
To make getting information form the HR Service desk an easy task by:
Revamping the existing website to make it more user friendly and informative. Design and implement a chat bot scheme
Develop a mobile app with multi utilities to make accessing the website easier.
Making it a strict rule that the employee gets his issue addressed as soon as possible through the First call resolution policy.
The HR service desk will become more efficient because
The information on many such cases will be gleaned from HRIS data to be used for forecasting such cases in future or to anticipate any such requests
They also intended to use IT expertise to use web page tracking so that they can keep tabs on the number of visits done by employees, generating automatic mail to them prompting for action.
They also put forth another alternative of automating the whole process.
All these actions were intended to make the experience with the HR service desk of the employee a better and smooth one.
The roles of each of the implementation team was defined as the following:
Ms. Elephant was entrusted with collecting all the problems plaguing the system which are necessary to be removed to improve the efficiency
Mr. Mice was entrusted with the duty to implement all the new schemes suggested properly and that all employees are aware of the new facility.
Ms. Sloth was given all the trainings necessary to improve her communication skills as well as the training required to get accustomed to the new software
Mr. Beaver and his assistants from IT department was given the duty to set up the chat bot, the app development and the website revamping.
They decided on implementing the plan of action in the following phased manner:
Developing a user-friendly website/automating the whole process by TEAM Beaver
Regular training conducted for service desk respondents (FAQ's to be updated regularly)
Mr. Mice will ensure that the entire process loop is closed within the defined time period
Review by Kangaroo to ensure that the entire process is progressing in the right direction
They decided to measure the effects of new systems by measuring the following:
First call resolution(FCR) leading to employee satisfaction
Resolving queries/concerns within the defined time period will help employee
Reduction in complexity after using automation
User friendliness rating given by employees for the website (which will also make them call up the service desk very less often)
After 8 whole months, Mr. Kangaroo could see the drastic change reflecting in employee attitudes and Mr. Bugs Bunny was ecstatic that no other person would have to go through the same mental agony that he had to.
The environment change had led to:
Improved Employee satisfaction and hence productivity
Crystal clarity regarding policies
Simplified processes to get financial benefits
Increasing trust and loyalty towards the company