2020-07-29
"These are the voyages of the starship Enterprise". These words shaped much of my growing up, when I watched Captain James Kirk take on adversary after adversary and win over challenging situations. As a tribute to the magnificent series which has had so many spin-offs and movies, I wrote a fan fiction screenplay of what might be one episode of the Star Trek show. I'll publish the entire screenplay chapter by chapter. Enjoy!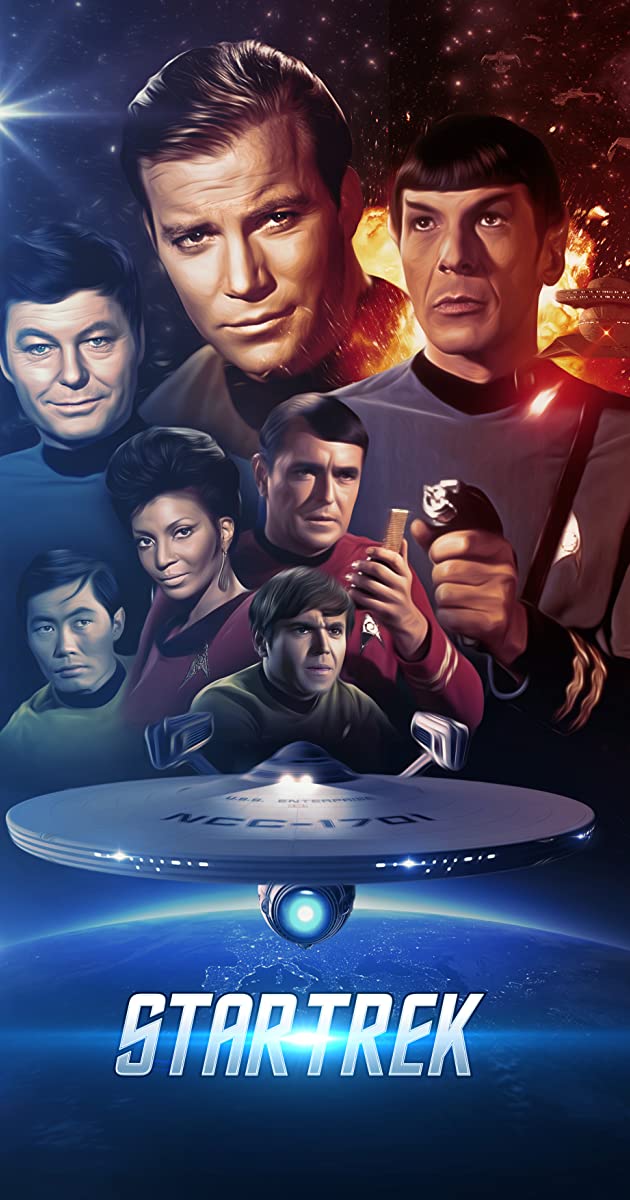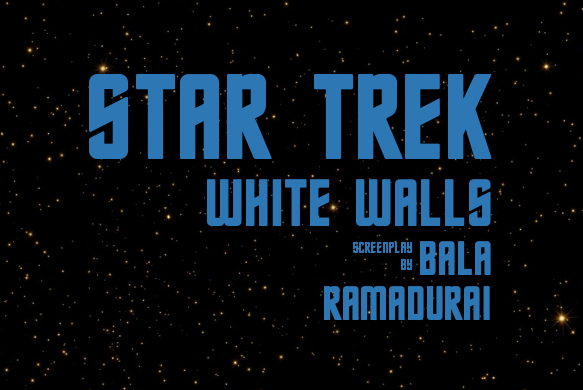 Disclaimer - Star Trek and all related marks, logos and characters are solely owned by CBS Studios Inc. This fan fiction screenplay is not endorsed by, sponsored by, nor affiliated with CBS, Paramount Pictures, or any other Star Trek franchise, and is a non-commercial fan-made screenplay intended for recreational use. Feel free to use this screenplay as you see fit. No alleged independent rights will be asserted against CBS or Paramount Pictures. (This disclaimer is a modified clause from https://www.startrekcontinues.com)
The entire series is here - https://balaramadurai.net/series/white-walls
Here's the screenplay:
Title: White Walls
version: 2.0
credit: Screenplay by
author: Bala Ramadurai
format: screenplay
source: Story by Bala Ramadurai
Edited by: Anita Nagarajan
contact: bala@balaramadurai.net


# Chapter 2

USS Enterprise is orbiting a bluish-green planet.

KIRK (V.O)
Captain's log: Stardate 5971.5. We established a standard orbit around Caperna IV in spite of the threats from the planet. Dr. McCoy just informed me about his daughter and her delirious condition on the planet. Dr. McCoy was in a bad state himself as he was recovering from Altairian fever. We had to get out of this star system as soon as possible but my first priority - the distress call.

INT. USS ENTERPRISE SICK BAY

Kirk and Dr. McCoy crowd around McCoy's personal communication screen.

JOANNA
(from the screen)
Message for Dr. McCoy. This is Joanna, your daughter. All the Capernians are held prisoners here by Slotta under the cover of classified research. Several crew members from starships have also been taken prisoners here. Your starship is in trouble. Radiant... Aa... Trouble... Crew... Aah... Don't... Aaaaahhhh

KIRK
Radiant? The Radiant disappeared a few years ago. Bones, is that your daughter?

MCCOY
It would seem so. But she was supposed to be in the Orion system.

KIRK
When were you going to tell me about this daughter of yours?

MCCOY
Look! That was a long time ago. Can you leave it already?

The wall-mounted communication console whistles.

SPOCK
Bridge to Captain Kirk. Come in, Captain Kirk.

KIRK
(Staring at Dr. McCoy)
This conversation is far from over, Bones.

Kirk clenches his fist and pounds on the wall-mounted button of the communication console.

KIRK
Kirk here. What is it, Mister Spock? Do you have a son stashed away somewhere?

SPOCK
Sir?

KIRK
(smiling at McCoy)
Sorry, Mister Spock. Little Doctor-Captain humor.

SPOCK
It's the High Command again, Sir. They are demanding that we leave orbit immediately.

KIRK
Is that an empty threat or do they have real weapons?

SPOCK
Yes, captain. They do possess weapons. Old-style thermonuclear war heads. And they are priming the weapons right now.

KIRK
Shields up and evasive maneuvers if we are fired upon. Under no circumstances are we to retaliate, do I make myself clear?

SPOCK
Understood, Captain.

KIRK
And Spock, get to the transporter room, on the double. Kirk out.

Kirk and McCoy walk towards the Sick Bay door which opens automatically.

INT. USS ENTERPRISE HALLWAY

Many engineers wearing full body suits and other crewmen are seen hurrying around the hallway. McCoy and Kirk walk down the hallway.

KIRK
(walking at a brisk pace)
Bones, I don't understand. If your daughter was in the Orion system, thousands of light years from here, how is she here? Do you think that the message is a trap?

MCCOY
(with a sling medical kit and moving his hands in an animated fashion)
I don't know, Jim. If there are lives at stake, my first priority is to save them, daughter or not.

KIRK
I hope you are right, Doc. We will have to take our chances.

Kirk moves towards the door which is labeled "Transporter Room".

INT. USS ENTERPRISE TRANSPORTER

Kirk and McCoy enter to find Spock waiting for them. He hands out phasor weapons to them.

KIRK
(adjusting his setting on the phasor)
Phasors on stun.

Spock and McCoy adjust the setting on their weapons. All three of them take their position on the pads of the matter-energy transporter. Transporter Chief KYLE and Lieutenant GALLOWAY stand in front of the transporter console.

KIRK
Did you know that McCoy is a father?

SPOCK
(Raising one of his eyebrows)
That is a medical miracle.

KIRK
(smiling)
Energize.

Kyle slides three sliding controls up on the transporter console to transport Kirk, Spock and McCoy.

INT. CAPERNA IV ROOM I

Kirk, Spock and McCoy appear in a white room. They find a young woman dressed in a white robe. Walls surround them and are white in color. The room has no corners. It is a circular room of about 20 feet in diameter. A console is propped against the wall. It has a few knobs and switches. Spock begins his analysis of the white-walled room using his tricorder. A continuous pulsating high pitch noise emanates from his hand-held gadget. Spock scans all around the room for his analysis. Meanwhile, McCoy gives the young woman an injection shot in her arm. The injection device is a metallic object of about 6 inches with a colored solution capsule at one end. The injection could be made subcutaneously without a puncture in the skin.

MCCOY
She is Joanna, Jim. She's coming around. Her mental faculties are sluggish as if fighting against something.

Joanna shrieks in pain.

KIRK
Doc, take her back to the ship and do the best you can. Keep me updated on what you learn from her, if at all you do. Spock and I will do some studying around here.

Kirk pulls out a personal communicator device from his back holster. He flips the communicator open.

KIRK
Kirk to Enterprise.

SCOTT
Bridge. Scott here, Captain.

KIRK
Dr. McCoy and a patient to beam up, Scotty. Have a medical team stand by.

McCoy and Joanna dematerialize from the planet to the Enterprise using the energy-beam transporter.

KIRK
Analysis, Spock?

SPOCK
Our long range scan was correct. These are humanoids and they are there all around us, millions of them. But nobody appears to be moving. They are all fixed to one position, in seated positions.

KIRK
Why?

SPOCK
Difficult to ascertain that. My tricorder also picked up a high energy source, something that our ship's sensors did not detect. The signal is strong in that direction, Captain.

As the captain moves in the direction that Spock pointed at, a door opened in the wall.

SPOCK
Captain, it would seem that we are being shown the way.

KIRK
(shurgging his shoulders and pointing at the door)
Invitation accepted.

INT. CAPERNA IV HIGH COMMAND CENTER

Slotta watches Captain Kirk and Spock on a viewing screen on one of the white walled halls in the High Command Center.

SLOTTA
Open the ports to the main hall. This will prove to be most interesting.

INT. CAPERNA IV ROOM I

Kirk and Spock move towards the door. Kirk, with a phasor in his right hand, moves cautiously. Spock continues scanning using his tricorder. They pass through to the next chamber.

INT. CAPERNA IV MAIN HALL

Kirk and Spock look down what seems like a balcony overlooking a large chamber with hundreds of short walls. The entire chamber is circular and the walls form a giant maze. The floor that they are standing seems to continue all around the room with no path leading to the chambers below. Kirk pointed at four such balconies all around the hall.

Captain Kirk sees rows of people sitting on white chairs staring at white walls. They are all wearing white robes and small devices attached to their right shoulders. Spock continues scanning the people using his tricorder.

KIRK
This explains why we didn't detect any movement.

SPOCK
High cerebral activity. Both hemispheres of their brain are at maximum activity. They are dreaming and calculating at the same time at peak efficiencies.

KIRK
Dreaming what? Calculating what, Mister Spock?

SPOCK
Difficult to ascertain, Captain. Their brain wave patterns seem to be very rhythmic and predictable. Almost Vulcan like.

KIRK
(smiling)
You'll feel at home here, Mister Spock.

KIRK
This seems like their main chamber. Analysis, Spock.

SPOCK
Fascinating. These are similar to the labyrinths found in some gardens on earth and the Deneb colonies. Odd, that there is no solution to this puzzle.

KIRK
No solution? Why?

SPOCK
It is logical to assume that these people cannot leave even if they wanted to.

The pointed end of a sharp spear appears in front of Capt. Kirk. The bearer of the spear is a warrior dressed in white tights. Capt. Kirk fires a stun ray using his phasor. The warrior faints and falls to the ground. Another warrior appears from behind and Spock fires a stun ray at that warrior, who falls to the ground unconscious as well. Many warriors show up, all of them with spears. One of the warrior knocks off the phasor from Capt. Kirk's hand and another knocks off the phasor from Spock's hand. Capt. Kirk pulls out one of the spears from a warrior's hands. The spear falls to the ground. Now, Kirk engages in hand to hand combat. Spock deals with one of them using a Vulcan nerve pinch on their shoulder. Kirk and Spock pick up a spear each and fight with the warriors.

Finally, Slotta and 10 women dressed in white robes surround Kirk and Spock. All of them except Slotta have devices on their shoulders which glowed green. They hold guns in their hands, earth 20th century relics, one could say. All of them point their guns at Kirk and Spock.

SLOTTA
Captain Kirk, I presume. Welcome to Caperna IV. You and Mister Spock are under arrest by the authority given to me as High Command of Caperna IV.