2020-08-19
"These are the voyages of the starship Enterprise". These words shaped much of my growing up, when I watched Captain James Kirk take on adversary after adversary and win over challenging situations. As a tribute to the magnificent series which has had so many spin-offs and movies, I wrote a fan fiction screenplay of what might be one episode of the Star Trek show. I'll publish the entire screenplay chapter by chapter. Enjoy!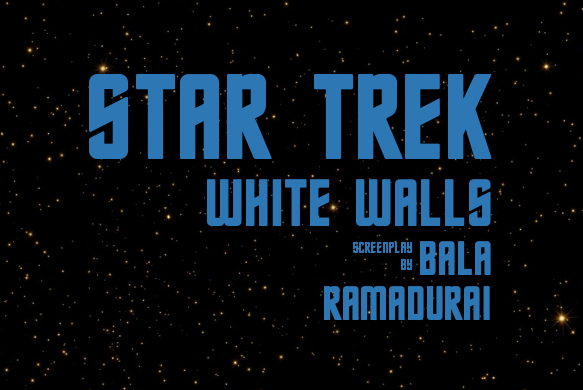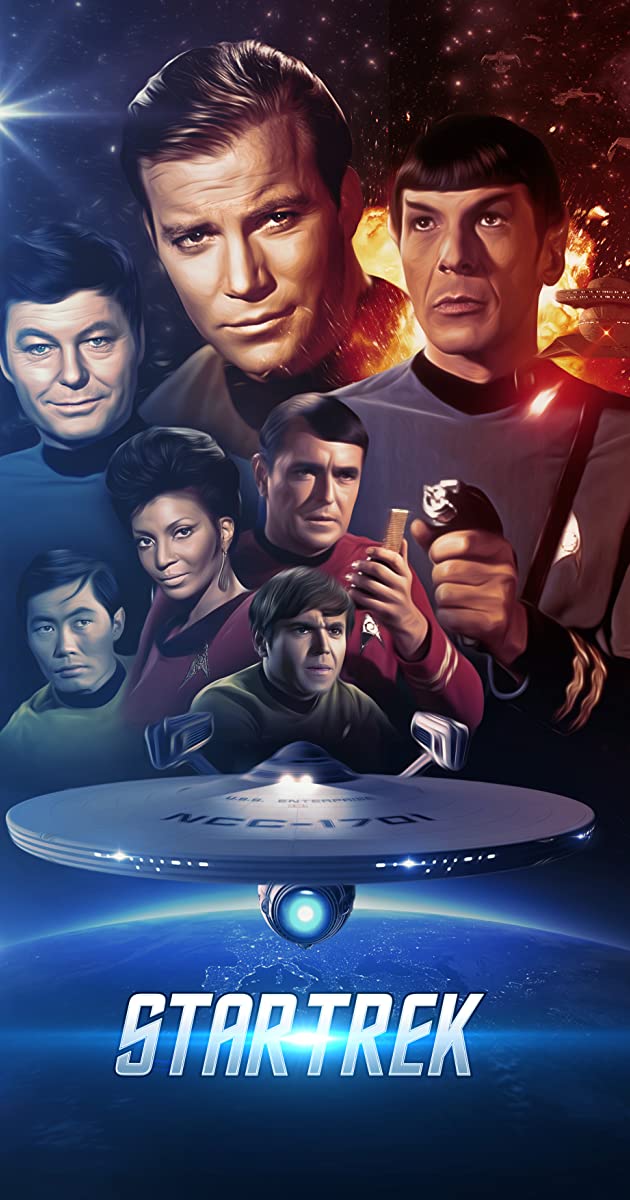 Disclaimer - Star Trek and all related marks, logos and characters are solely owned by CBS Studios Inc. This fan fiction screenplay is not endorsed by, sponsored by, nor affiliated with CBS, Paramount Pictures, or any other Star Trek franchise, and is a non-commercial fan-made screenplay intended for recreational use. Feel free to use this screenplay as you see fit. No alleged independent rights will be asserted against CBS or Paramount Pictures. (This disclaimer is a modified clause from https://www.startrekcontinues.com)
The entire series is here - https://balaramadurai.net/series/white-walls
Here's the screenplay:
Title: White Walls
version: 2.0
credit: Screenplay by
author: Bala Ramadurai
format: screenplay
source: Story by Bala Ramadurai
Edited by: Anita Nagarajan
contact: bala@balaramadurai.net



# Chapter 5

INT. USS ENTERPRISE TRANSPORTER ROOM

Joanna helps McCoy get up.

MCCOY
(Rubbing his nose)
Wow! My nose! Thanks, Joanna, for your help. Jim is quite a handful. Could have been worse if it had been Spock.

JOANNA
Thanks to you, Dad. We still have a big task ahead of us.

McCoy pulls out a hypersonic tweezer from his medical kit. He moves over to Captain Kirk and skillfully removes the Tekron using the hypersonic tweezers.

MCCOY
Piece of cake. Another shot to his arm and he'll be good as new.

McCoy injects the captain with a shot.

KIRK
(rubbing his temples)
Bones. Did a rhino run over me?

MCCOY
(stands upright and saluting)
Welcome back, Captain. I relinquish my command to you and it is a pleasure doing so.

KIRK
(sitting on the ground)
Joanna, I presume. Nice to meet you! I hope you are not as hard headed as your Dad.

JOANNA
Captain, I am sorry I had to stun you. Dad taught me how to use the phasor.

KIRK
I don't remember any of that. I must say the resemblance between you and Slotta is remarkable.

MCCOY
(helping Kirk get up)
Well, lover boy, leave Joanna out of your web.

MCCOY
Jim, we still have the crew imprisoned on the planet and surgically removing the Tekron from everyone could take ages.

KIRK
I wish I had my Science Officer's services, but he's not available. I remember Slotta telling me that she utilised the services of women to first convince everyone of the Tekron and dream weaver. Why not weave the same web?

MCCOY
Well, I am a doctor, not a salesman. Joanna, what do you think?

KIRK
(gently slapping McCoy's cheek)
Doc, that's a great idea! Joanna, contact the officers of the High Command.

Kirk, McCoy and Joanna move to the bridge using the ship's elevator mechanism.

INT. USS ENTERPRISE ELEVATOR

Joanna, McCoy and Kirk hold handles of the elevator.

KIRK
Bridge

KIRK
I could have you courtmarialled for attacking your Captain.

MCCOY
Well, you started it. Besides I was the Captain.

KIRK
(to Joanna)
Your Dad is tough to argue with.

Elevator stops.

INT. USS ENTERPRISE BRIDGE

The door of the bridge opens and the trio walk in. Kirk leads Joanna to Uhura's communication console. He pushes a few buttons on the console.

KIRK
All yours, you know, what to do.

JOANNA
(smiling and nodding)
This is Joanna, Tekron Serial Number 659234, Authorization Code kghasfg.

OPERATOR (V.O)
You are cleared, Joanna. What is the state of your emergency?

JOANNA
I've been abducted by two earth men on outpost 4 on Caperna, please rescue me.

OPERATOR (V.O)
We'll send an Emergency Response team immediately.

JOANNA
I have some classified information as well, can you please send the High Command Commissioner Slotta to come along?

OPERATOR (V.O)
I will pass on the information.

JOANNA
Ok. We'll rendezvous in 15 minutes at Caperna outpost 4. Joanna out.

KIRK
Clever girl! Now, tell us the coordinates of outpost 4.

While Joanna relays information of the coordinates, Kirk lowers the defensive screens for transport. The Enterprise starts a red alert automatically.

MCCOY
What is it, Jim?

KIRK
The defense shield is still down and the ship has detected an attack from the planet.

A loud noise is heard and the ship rocks, knocking Kirk, McCoy and Joanna to the floor.

MCCOY
(getting up while holding a handle on the console)
What was that?

Joanna is rubbing her shoulders. Kirk got up looking at the analysis screen to look for damage to the Enterprise.

KIRK
Looks like an old style nuclear device. No major damage, but has taken out the transporter for sure. Joanna, Slotta knows that you were the one who contacted them.

KIRK
They've fired another salvo. Thankfully, deflectors snapped back on. I wish I had one crew member to man the phasors.

JOANNA
Captain, if I can be of some assistance. I was in the Star Fleet Academy, but dropped out soon after.

KIRK
Atta girl! Let me show you how the phasors work. Doc, press these buttons when you see this panel light flashing, will you? And don't start with the 'I am a doctor' routine.

Kirk shows McCoy what to press on the navigator's console on his mark.

MCCOY
No, Sir. Standby Sulu here.

Joanna and Kirk leave the bridge. McCoy sees the panel lights on just like what Kirk told him about. He is ready to press the buttons that Kirk had asked him to press. At that instant though, he holds his head and looks like he is in severe pain. He starts wandering around the bridge like a madman. The Enterprise rocks violently at the second missile hit.

KIRK
McCoy, come in, McCoy.

MCCOY
Captain... Jim. McCoy... Here...

KIRK
Bones, what's wrong? We had a direct hit on the deflectors. They are weak now. Why didn't you evade like I'd asked you to?

MCCOY
Altairian fever remnants... Headache... Splitting...

McCoy pulls out his injection device, fills up and gives himself a shot to relieve the pain. McCoy finds that his right hand is almost limp. He lifts his right hand using his left hand and places it on the button he is supposed to press for evasive maneuvers.

KIRK
Doc, it will be some time before the phasors are ready to fire again. Try again for evasive maneuvers.

McCoy regains some sensation in his hands. The enterprise rocks violently another time and McCoy is thrown out of the helmsman's post. Slotta appears on the viewing screens of the ship and she is heard all over the ship.

SLOTTA
Slotta to Captain Kirk. I am ready to discuss your surrender. All I want is that three of you return to Caperna to get wired back in. Failing which, I will destroy the Enterprise. Your Science Officer tells that your ship is all but lost now. Your defenses are gone, your fire power gone and the ship is decaying in orbit. Looks to me like you can do with some shore leave at Caperna.