2020-09-02
"These are the voyages of the starship Enterprise". These words shaped much of my growing up, when I watched Captain James Kirk take on adversary after adversary and win over challenging situations. As a tribute to the magnificent series which has had so many spin-offs and movies, I wrote a fan fiction screenplay of what might be one episode of the Star Trek show. I'll publish the entire screenplay chapter by chapter. Enjoy!
Download the entire screenplay as a PDF.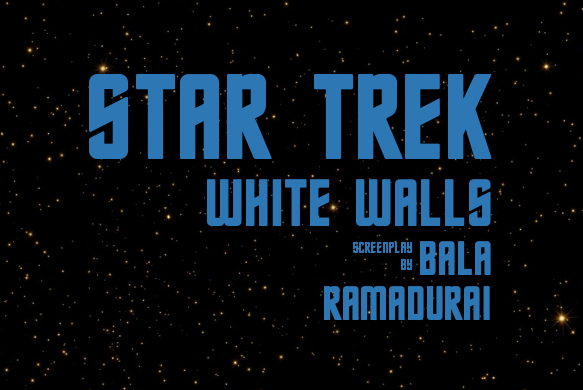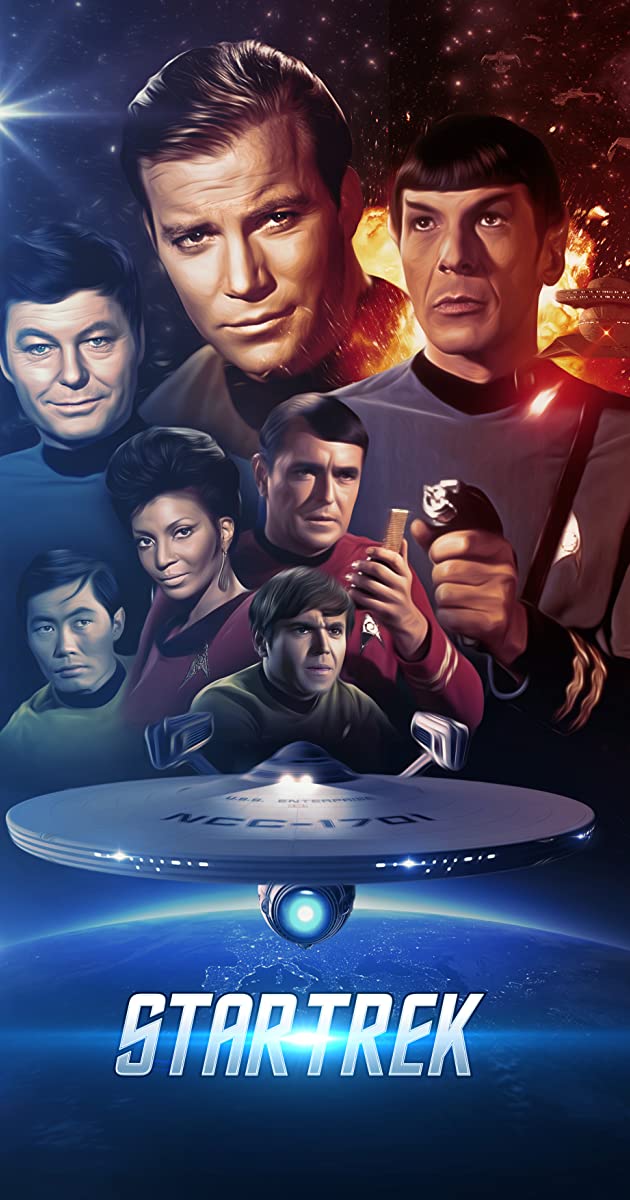 Disclaimer - Star Trek and all related marks, logos and characters are solely owned by CBS Studios Inc. This fan fiction screenplay is not endorsed by, sponsored by, nor affiliated with CBS, Paramount Pictures, or any other Star Trek franchise, and is a non-commercial fan-made screenplay intended for recreational use. Feel free to use this screenplay as you see fit. No alleged independent rights will be asserted against CBS or Paramount Pictures. (This disclaimer is a modified clause from https://www.startrekcontinues.com)
The entire series is here - https://balaramadurai.net/series/white-walls

Here's the screenplay:
Title: White Walls
version: 2.0
credit: Screenplay by
author: Bala Ramadurai
format: screenplay
source: Story by Bala Ramadurai
Edited by: Anita Nagarajan
contact: bala@balaramadurai.net


# Chapter 7

INT. USS ENTERPRISE BRIDGE

Joanna/Slotta points her phasor at Kirk and McCoy.

KIRK
Slotta?

Kirk is shocked to know the true identity of Joanna.

SLOTTA
Kirk, you are so naïve, I knew your every move from the moment I came onboard the ship. I fed the computers with incorrect data. I recruited the women first. The women transported all the personnel from the ship. I just couldn't control the doctor, this was my only fault. He remained fixated that I was his daughter. I stayed back to make sure he wasn't doing anything that would hamper my plans. I am going to destroy this ship. I don't need this ship anymore.

KIRK
Why destroy the ship? From the Federation, we can help your civilization in any possible way and you won't have to imprison these people like this.

SLOTTA
This is not imprisonment, Captain. It is their duty to build the future. They are fulfilling this through me.

KIRK
Whose future? They are building your future.

SLOTTA
Don't interfere in this one, Kirk. You are violating your prime directive of non-interference. I learnt this from Captain Radha of the Radiant.

KIRK
No, I am stopping you, an alien from interfering and controlling for your personal gains.

SLOTTA
Enough of this nonsense, I'll have no more. I am taking McCoy as prisoner and beaming aboard the Radiant and I will destroy you along with the Enterprise. Your mind is too strong for the Dream Weaver, so I cannot plug you back in. McCoy! Move!

Slotta instructs McCoy to move to the elevator.

MCCOY
Joanna, listen to me. Your mother was a good woman, she must have raised you well. Jim is a friend and I can't see him destroyed with his ship like this.

SLOTTA
Shut up, I am Slotta. Don't try these emotions on me. I am taking him out. If you think about it, it's poetic justice. Kirk goes in cinders with his beloved ship.

KIRK
(looks at the door and shouts)
Mister Spock! Here!

Slotta and McCoy look toward the elevator doors. Kirk uses the opportunity to knock the phasor out of Slotta's hand. McCoy grabs Slotta by her throat with his arms, while Kirk tries to reach for the phasor. Slotta moves her elbow fast and punches McCoy in his stomach. McCoy goes down writhing in pain. Slotta kicks the phasor out of Kirk's reach. Slotta punches Kirk on his face and he falls down. While Kirk is recovering, McCoy gets hold of the phasor with one hand.

KIRK
Good job, Doc! Now, Slotta, move slowly. March to the confinement room in the lower deck.

INT. USS ENTERPRISE CONFINEMENT ROOM

Slotta is locked in the confinement room with a force field protection, holding her in place.

INT. USS ENTERPRISE TRANSPORTER ROOM

Kirk and McCoy are in the transporter bringing back all the crew members from the Enterprise and the Radiant. The medical team quickly removes the Tekron from the crew members' shoulders.

INT. USS ENTERPRISE BRIDGE

KIRK
Scotty, are the warp drives fully operational?

SCOTT
Aiy, Captain.

KIRK
(looking all around him)
Now that all crew members are onboard, I want to meet Mister Spock. Where is he?

CHEKOV
(looking at the main viewing screen)
Captain, the federation ship, Radiant, is leaving orbit.

KIRK
Lieutenant, try to raise the Radiant.

CHEKOV
I've already tried. They wouldn't answer.

KIRK
Follow the Radiant. Scotty, what is the maximum warp speed of the vessel?

SCOTT
5, maybe 6, Captain. We'll able to catch them.

CHEKOV
Captain, one life form onboard.

KIRK
Warp 7, Sulu. Distance from the Radiant?

SULU
100,000 kms and closing

SULU
50,000 kms

KIRK
Scotty, two tractor beams ready. I intend to tow her.

SCOTT
Two beams ready. We are still out of tractor beam range.

SULU
20,000 kms and closing

CHEKOV
Captain, I just scanned the life form, it matches a body signature of a Vulcan.

KIRK
Spock.

CHEKOV
(looking at his console)
Captain, the Radiant has increased speed to warp 8.

KIRK
Scotty, I thought you said this ship had a maximum warp speed of 5 or 6?

SCOTT
Beats me, Captain. Radiant was originally designed to be a luxury liner, that's all.

CHEKOV
Captain, the engines are overheating on the Radiant.

KIRK
Warp 8.5, Scotty.

SCOTT
Sir, this might push the engines.

KIRK
8.5, Scotty. Distance, Mister Chekov?

SULU
10,000 kms now.

KIRK
Scotty, are we within tractor beam range?

SCOTT
Aiy, but we will end up damaging our engines.

KIRK
Put her on tow. I want to stop Mister Spock from doing whatever he has in his mind.

KIRK
Brace yourselves, the Radiant will be under tow. Scotty, NOW.

Scott presses a switch and the Enterprise feels the pull from the Radiant under tow. The personnel fall from their positions. Scotty holds the handles next to his station.

SCOTT
(shouting over the commotion)
Captain, the Radiant is under tow. The engines are overheating.

KIRK
Hold her steady.

SCOTT
Captain, engines are superheating. 500 degrees above.

CHEKOV
Sir, the engines of the Radiant are also superheating.

The bridge doors opens, Mister Spock walks in and uses his Vulcan nerve pinch on Scott. Scott drops to the floor. Before the captain and the bridge personnel could react, Spock manages to push a few buttons on Scott's panels.

KIRK
(trying to restrain Spock)
Sulu, signal the security.

Spock proves to be too strong for the Captain. The other bridge personnel join Kirk to restrain Spock. None of them are successful. The bridge elevator door opens and a security guards appears and fires a stun shot at Spock. That puts Spock out of action.

KIRK
(panting and on the floor)
Wow! He's a handful. Take him to Sick Bay and put him on restraints. Mister Chekov, status of the Radiant?

CHEKOV
Sir, the Radiant, Sir. It is gone.

KIRK
(moving toward Chekov's seat)
How can it go away? We had it under tow and Spock was here.

CHEKOV
Sir. Mister Spock turned off the tractor beams. The Radiant used ion propulsion to travel at warp 11 to go past the... Sir...

KIRK
Yes, Mister Chekov. Where did the ship go?

CHEKOV
Sir... One eleven Mark 14. In the direction of the Romulus.

Kirk looks at McCoy and Spock.

KIRK
Bones, I thought you removed the Tekron from Mister Spock?

SPOCK
Captain, that's quite correct.

KIRK
Security!

SPOCK
(releasing himself from the hands of the security)
No, sir, that won't be necessary. I am in complete command of myself now.

KIRK
Mister Spock. Care to explain your actions?

SPOCK
You no doubt guessed, who was on the Radiant. Slotta. She is a Romulan. After the good doctor used his pitchforks and animal skins to remove the Tekron. I was still under the mind control of Slotta. She forced me to free herself from the confinement room. I then transported her to the Radiant. She also forced me to switch off the tractor beams. After her entry into the neutral zone across Federation territory, she was too busy navigating the ship that she had to let me go.

KIRK
I have a few questions. How did the Radiant move faster than her designed speed?

SPOCK
Slotta gave this problem to the Capernians, but they were too simple minded to solve the problem. So she gave the problem to the trapped crew of the Radiant. Then, she forced me to perform the final modifications.

KIRK
Mister Spock, we still have a plug to pull. Mister Chekov, arm the phasors. Short bursts only. Target the high energy source.

CHEKOV
Armed and ready, Captain.

KIRK
Fire phasor one.

Chekov fires the phasor on target and the energy source starts bellowing smoke and becomes red hot. The structure finally disappears from the building. Capernians start getting up from their seated positions. They move around on their own for the first time.

KIRK
Prepare a landing party of sociologists to bring them back to the moving, thriving culture that they were. Let's get the Capernians moving.

Uhura enters the bridge smiling at all the crew members. She points at her empty shoulder.

KIRK
Welcome back, Lieutenant.

Uhura smiles and takes her seat at the communication console.

KIRK
(turning to the doctor)
Doctor, don't mind my asking. Was Joanna your real daughter or was it all make believe like the rest of our Capernian experience?

MCCOY
As a matter of fact, I spoke to her after years. She is indeed at the Orion Medical Base, training to be a surgeon. Did you hear that, Jim? A surgeon like her old man.

KIRK
(smiling)
Bones, another question that intrigued me was why were you spared from the influence of the Tekron?

MCCOY
All I can say is that my duty consciousness as a father and as a doctor prevented me from moving out of the Enterprise.

SPOCK
The Tekron and Slotta must have found your waves of illogic too hot to handle.

Spock says with a stern face.

KIRK
Well, for the first time, illogic saved your life, Spock.

The entire crew has a good hearty laugh.

KIRK
(still smiling)
Mister Sulu, lay in a course for Star Base Nine. Ahead, Warp factor one.