By semco | 2020-11-18
Creativity + compassion = Innovation, says Bala Ramadurai, a co-founder of TRIZ Innovation India, and an Adjunct Professor at Symbiosis Institute of Business Management, Pune.
In our next episode of "Shape the Future of Work" podcast, listen to Bala as he shares how he helped companies become more creative using proven methods. Tune in to a podcast app of your choice and get inspired. Don't forget to let us know your thoughts and experience in this area.
Thanks Ramesh, Harini, Rajesh for inviting me to this podcast. It was fun, we should do this again! :) - Bala Ramadurai
The link to the anchor.fm podcast is
https://anchor.fm/books-n-stuff-podcast/episodes/Systematic-Innovation-is-not-an-Oxymoron-emc3cn
.
Creative Innovation is one of the principles of the Semco style framework - it enables companies to tap into the creative power of their people. However, despite providing a nurturing and engaging environment, some teams don't become creative. That, Dr. Bala Ramadurai, our guest says is not because of lack of trying, but because of lack of tools and methods that can help people become more creative.
Dr. Bala Ramadurai, is an expert on systematic innovation, using formal methods to make people create and innovate more. He says, that we have romanticized innovation, and have the image of Isaac Newton sitting under a tree to come up with his breakthrough. However, that is not the only way innovation and creativity work. Creativity is not a spark that comes once in a while, but can be seen as a process, that is traversed step-by-step.
Listen to Dr. Bala to understand how you too can be more innovative and creative.
Bala's book, Karmic Design Thinking can be bought here.
Triz India's website can be accessed here.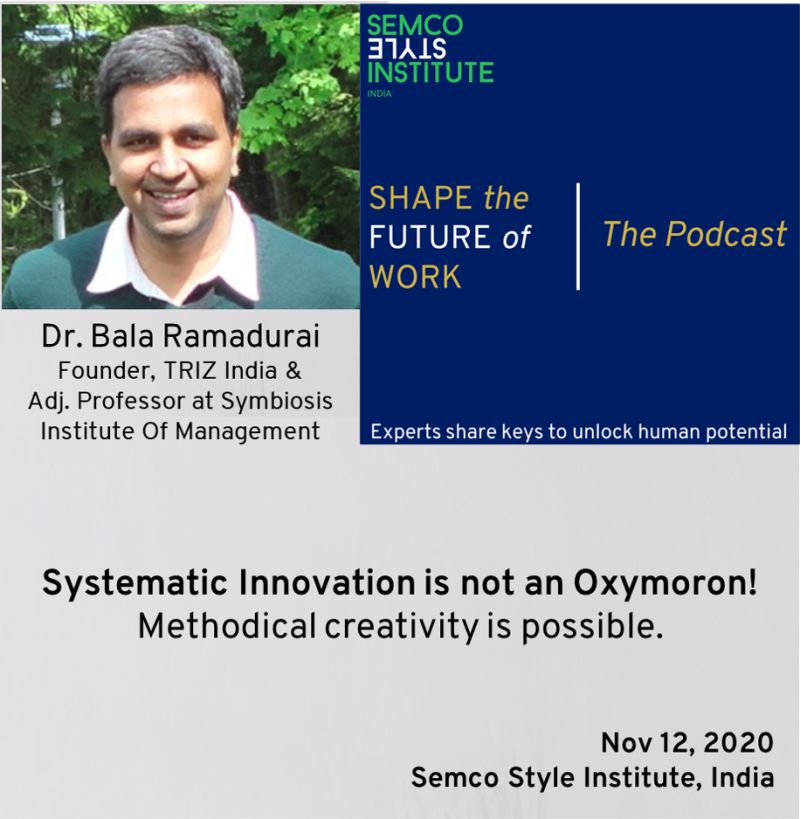 The linkedin post that you can participate in: