2020-08-12
Title From an Idea to a Novel: A Write-A-Thon
Subtitle: Develop an idea into a framework for a novel
Venue: Online (Zoom)
Date&Time: Tuesday, Aug 18, 10 am to 4 pm (1-2pm - Lunch break)
Fees: Free (if you request politely, we may you give you a 10% discount :-p)
Workshop Facilitator: Bala Ramadurai
Register here - https://www.meetup.com/Pune-Writers-Group/events/272502914/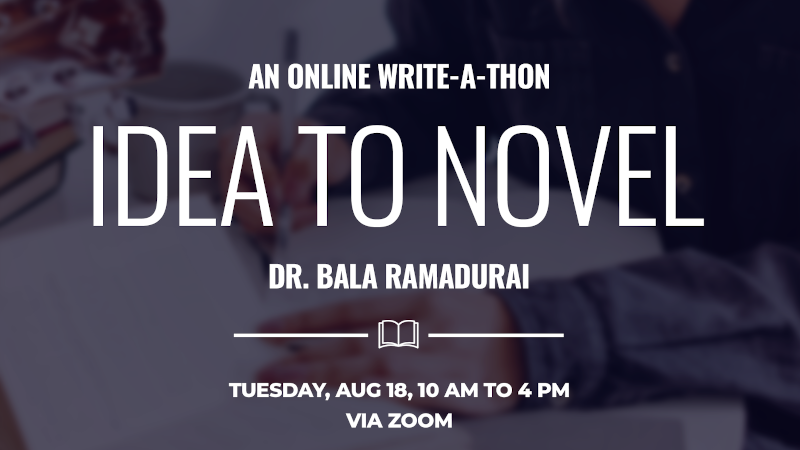 The Write-A-Thon Workshop
You want to write a novel, but you don't know how to create an outline.
You have a seed idea for a novel, and you intend to expand it into a complete story.
You have many ideas for a novel, and you are wondering how to proceed.
You started writing your heart out, and you now feel the need to create a framework for a novel.
If any of these sounds like your situation, this day-long (10 am-4 pm) write-a-thon will help you. Join this session to develop your story idea into a framework for a novel.
What you will learn during the workshop:
How to write a single-line plot for a novel
How to write the backbone of the novel, the main character arc
How to create characters and write their arcs
How to create a story design
How to create the scenes design
We will use:
The facilitator will guide you to develop your ideas into frameworks for one or more novels.
What are you waiting for?
Bring your pencils, erasers, your favourite typewriter, your cat and a stash of story ideas. Let's create frameworks for our novels.
My Profile
Dr. Bala Ramadurai, professor of innovation, creativity and design thinking (https://balaramadurai.net) - My experience with writing started about 10 years ago (if you don't count my PhD thesis as writing), when I wrote a bunch of short stories for a course I was going to teach at IIT, Madras. Since then I have devoured story writing techniques from experienced authors and applied those techniques to my writing process. I have written over 200,000 words, outlined 3 novels and just completed a non-fiction book on design thinking. Many enthusiastic fellow writers from the Pune Writers' Group have helped me in this journey. I enjoy using stories as a medium for effective teaching and coaching.